TOMORROW STARTS TODAY
Welcome to the new standard in working together
We help your business with tomorrow's new way of working, thanks to our cloud solutions 2.0.
Do you have any questions right away?
Schedule a video-conference or call us at +32 2 888 33 00
We help your business with tomorrow's new way of working, thanks to our Cloud Solutions 2.0.
The market is changing, and so should your business.
We turn challenges into opportunities.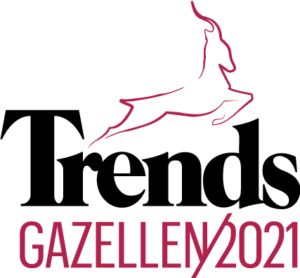 We are nominated for the Trends Gazellen 2021!
A Gazelle is a fast growing company which is an integral part of the Belgian economical landscape. They are all competitive organisations that positively impact the entrepreneural climate in their region. They are powerful sources of innovation and job creators that act as inspiring role models for other companies.
CLOUD COMMUNICATION PLATFORM
Next Generation Cloud Communications Platform
My TelSmart, the 'most' user-friendly cloud telephony platform on the market that truly everybody can use
Our E.S.S Principle:
Easy, Smile, Speed
There is a high standard that expects you to give more than what the market expects – every day. Just so you know, even we sometimes make mistakes – because we work with people who are allowed to do so.
Over 1500 satisfied clients across Belgium
Switched to TelSmart for several months. Transition went smoothly and all our wishes have been fulfilled. After-sales service is top: the helpdesk is very accessible and we are helped quickly. Account manager also monitors the state of affairs behind the scenes.
Wim Van de Velde
Van de Velde insurances