We are an innovative Belgian telephony provider that works differently because we are built differently from within our DNA.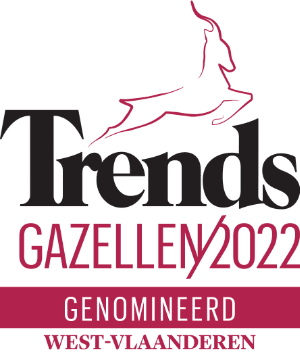 We are nominated for the Trends Gazellen 2022!
A Gazelle is a fast growing company which is an integral part of the Belgian economical landscape. They are all competitive organisations that positively impact the entrepreneural climate in their region. They are powerful sources of innovation and job creators that act as inspiring role models for other companies.
At TelSmart, it is all about people's quality of life.
Everything we do is always focused on improving quality of life. Getting the best out of your life every day, that is what we cultivate.
Teaching people how to fall and rise again, teaching them how you can think big, how they can create self-confidence. How they can produce more energy.
We believe this is crucial to actually make the difference for you as a customer and to build a 'trusted advisor for life" relationship with you.
Focus on your convenience, not on the technology.
What we create and implement is always focused for 80% on making people's lifes easier.
We create solutions for the "I want to have self-control" user. Convenience brings quality of life. It activates the happiness hormone in your brain.
We breathe positivity and optimism.
Positivity doesn't just happen, it is a life style that you choose. We have created our culture in such a way that negativity can't get it anymore. Our people are always super creative, with an enormous amount of drive and eagerness and they are always ready to help with a smile. We believe that our life style can also make a difference in your business.
The market requires ever more velocity.
We live in a market where convenience rules. Consumers want to satisfy their needs in as less time as possible. That's why we passionately work on tools every day that enable you to service your customers from anywhere, without worries. We create your telephony software that you can take anywhere.
CLOUD COMMUNICATION PLATFORM
Next Generation Cloud Communications Platform
My TelSmart, the 'most' user-friendly cloud telephony platform on the market that truly everybody can use
Our E.S.S Principle:
Easy, Smile, Speed
There is a high standard that expects you to give more than what the market expects – every day. Just so you know, even we sometimes make mistakes – because we work with people who are allowed to do so.
Over 1500 satisfied clients across Belgium
Switched to TelSmart for several months. Transition went smoothly and all our wishes have been fulfilled. After-sales service is top: the helpdesk is very accessible and we are helped quickly. Account manager also monitors the state of affairs behind the scenes.
Wim Van de Velde
Van de Velde insurances