Ultimate vision
Working on a digital future
The TelSmart vision is to make an outstanding positive difference in the daily operation of companies. Our team shares an amazing passion to create and integrate innovative solutions to have a unique office experience.
We have lots of fun while working very hard to give more to our customers than what they expect!
Discover our vacancies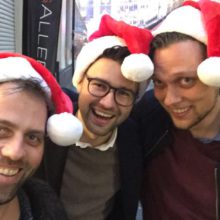 I think it's extremely important to work at a company where I can continuously grow, where everyone respects each other and open communication is key. At TelSmart, I found a team with an amazing spirit. Everyone gets the opportunity to further expand their capacities, through which we all grow together. The employees' wellbeing is top priority!
If it were up to me, I would stay with TelSmart until I retire!
Wendy
Since I work at TelSmart, I have found the perfect work-life balance.
Because there is room for growth within the company and my tasks are miscellaneous, my job remains interesting.
After working in an energetic team with amazing colleagues for 2,5y, I hope to stay with TelSmart for a long time.
Angelique
Showing your potential and giving your opinion is the default setting at TelSmart
I have the freedom to think outside the box and to experiment.
And even if I fail, my colleagues will still be there to support me.
Most important is that i have fun while making a difference with my colleagues.
Last but not least, my opinion matters and I'm able to use my skills and knowledge to push myself in different areas.
Marko
The nice thing about working at TelSmart is that is not a standard "company". Everyone can just be themselves, which results in a positive melting pot of ideas and feedback, through which everyone can learn from each other. To me, TelSmart means independency and a high dose of creativity with direct input from colleagues.
Pieter
"Great results in life are only achieved by taking consistent action with passion."
Discover our vacancies
Last but not least
At TelSmart we believe in people … and especially in making people better. We highly invest in personal growth and the well-being of our people. This makes our super enthusiastic group determent to bring about a change in the industry, together.